"From 6.3% at the end of 2019, Australia's I&L vacancy rate has trended down, to its current record low of 0.8%."
With all the discussion surrounding the low vacancy rates for Australia's residential and retail spaces, for some, the rates for the industrial and logistics (I&L) sector have flown under the radar. But a new report from CBRE is bringing to light the demand for I&L space, and the "chronic undersupply" of properties.  
The current statistics 
"From 6.3% at the end of 2019, Australia's I&L vacancy rate has trended down, to its current record low of 0.8%", stated CBRE'S Head of Industrial and Logistics Research Australia, Sass J-Baleh.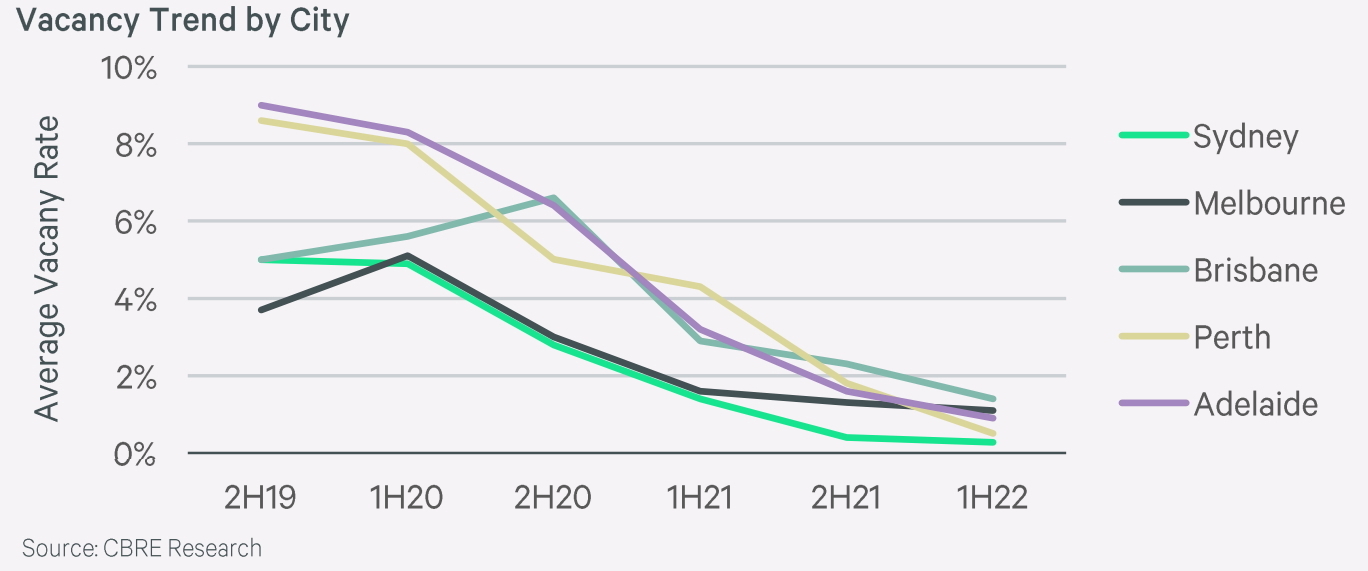 Vacancy trends by city - CBRE Research
This figure of 0.8% is notably tighter than the global average of 2.7% that was recorded at the end of H1 2022. Comparatively, mainland Europe as a collective sits at 2.6%, and the USA lies at 3.1%. Nations which are trending closer to Australia include Sweden (1.1%), Belgium (1.3%), the United Kingdom (1.6%), and Hong Kong SAR (2.3%). 
"Although vacancy rates around the globe have also fallen over the past 12 months in particular, Australia now has the lowest national vacancy rate globally," J-Baleh noted. 
Net absorption
National net absorption provides a measurement of the net change in the supply of commercial space, and the numbers reflect what the vacancy rate indicates plainly; leasing activity is limited due to a lack of available space. 
Occupier movement has been motivated by tenant expansion and additional space requirements, as opposed to relocation purposes. As such, over 1H22, total floorspace net absorption decreased around 40% compared to 2H21. 
With movement so restrictive, owners are reaping the rewards. Super prime grade rents have risen 13%, exceeding expectations. That trend has been particularly pronounced in Sydney, where rental growth is currently sitting at 23% year-on-year. This coincides with Sydney having the lowest I&L vacancy rate of any major city around the globe (0.3%), beating out Los Angeles (0.5%), Gothenburg (0.9%), Seoul (1.0%), and Auckland (1.0%).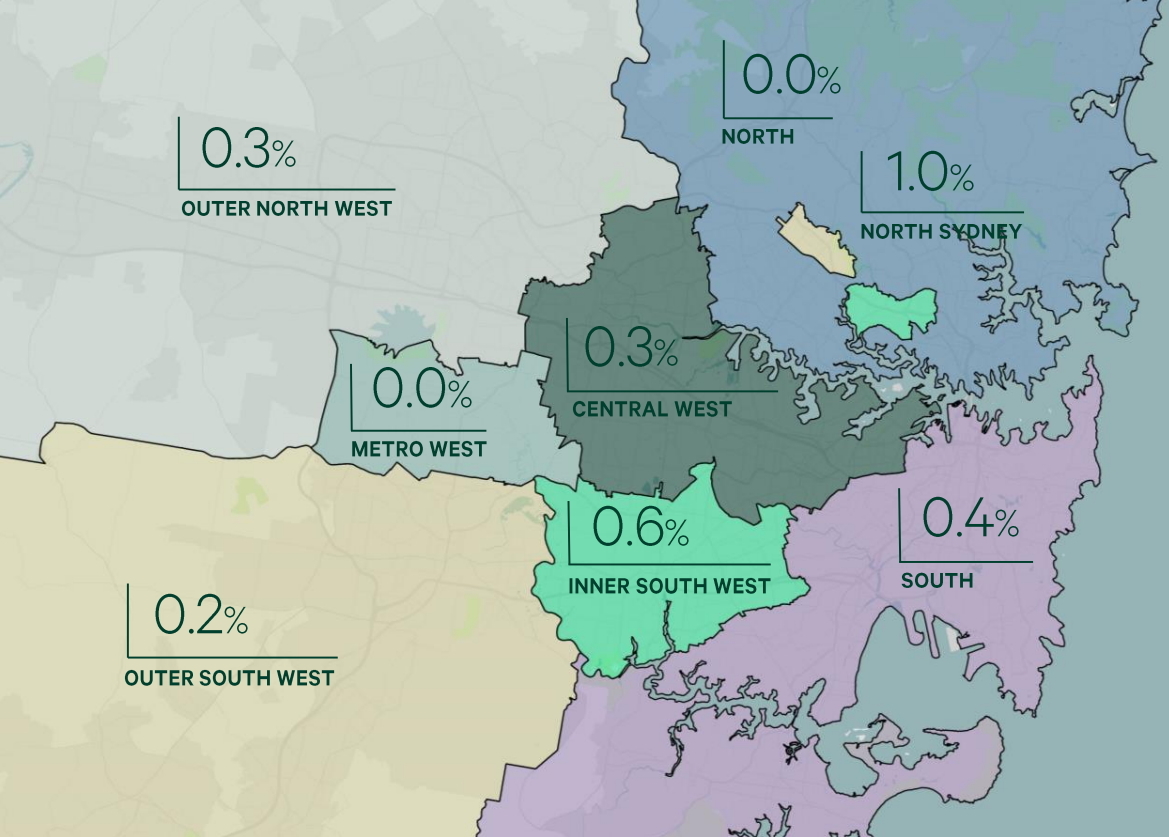 Sydney 1H22 vacancy by precinct - CBRE Research
A notable exception to these net absorption trends has been Brisbane, which recorded an increase in net absorption over 1H22, owing partly to its relatively higher space availability in the second half of 2021. As a result of the city's net absorption, the Brisbane market recorded the largest decline in vacancies between 2H21 and 1H22, dropping from 2.3% to 1.4%. 
What do these statistics mean? 
The pandemic seemed to accelerate supply concerns for the industrial property market, and the product of those concerns are manifesting in 2022. We reached out to Senior Strategic Planner for the Wyndham City Council, Mina Thomas, who stated that in his experience with Melbourne's west, certain sectors are taking up more space than ever as the industrial landscape has shifted over the past few years.
"Construction and manufacturing got a lot bigger [during the pandemic]," he stated. "Industrial land that hadn't been used before is being used now."
Cameron Grier, the Regional Director of CBRE Industrial and Logistics in Pacific, believes that these trends likely won't change much during the second half of 2022. 
"The depth in demand is giving owners and developers significant choice, and only occupiers with the strongest covenants are winning the right space."
"We expect demand to continue to outpace supply this year and into 2023, and we are seeing rental growth above CBRE Research forecasts." 
We reached out to Fitzroys' Director of Agency, Marco Sandrin, to see whether other agencies had identified similar market activity, and he confirmed that these figures were reflecting what Fitzroys has been exposed to recently. Sandrin cited how typically, you would expect a 10,000 sqm industrial asset to take between 1-to-6 months to find a new occupier. Nowadays, the turnaround is near instantaneous.
"A combination of a lack of available leasing options and strong occupier demand/take-up has driven down the vacancy rates to new lows," stated Sandrin. "Vacancy rates are set to remain low as new supply is mainly pre-committed."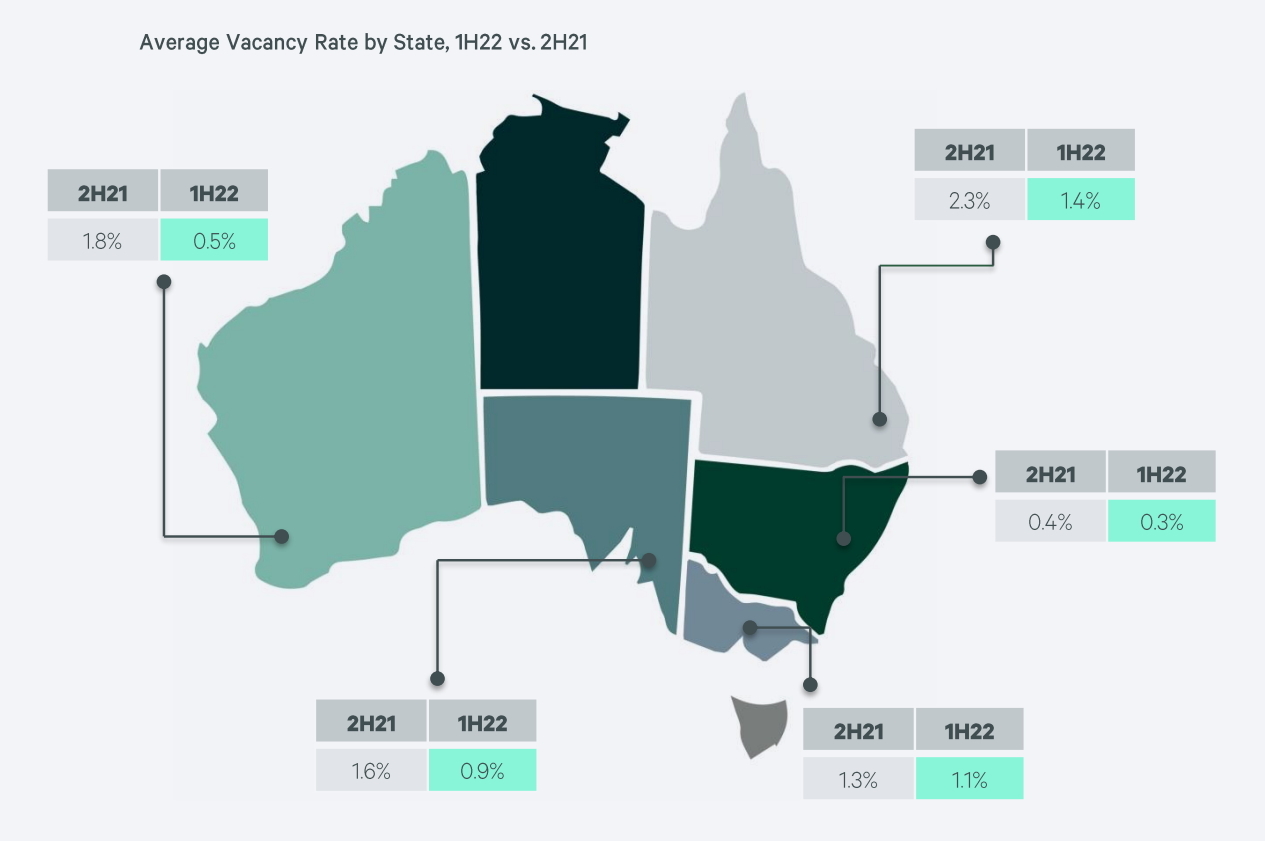 Average vacancy rate by state, 1H22 vs. 2H22 - CBRE Research
Peter Turnbull, CBRE State Director for Brisbane, echoes some of these sentiments, but believes that if tenants are capable of waiting, supply might increase in due course. 
"This last quarter has seen significant take-up of existing stock... our figures show that there is a good supply of stock coming on line Q2 2023, if tenants can wait that long." 
The wait for stock is, in part, due to rising material costs halting construction on new project activations, suggests James Jorgensen. The CBRE State Director for Melbourne stated that "rising construction costs and delays in the arrival of materials are slowing the speculative development pipeline which is reducing supply, whilst occupier demand remains incredibly robust and at very high levels." 
The increase in supply chain costs has been a consistent source of concern for the development sector all throughout the first half of 2022. Property and construction advisory firm Slattery stated back in May that they were predicting a national average of four-to-eight per cent price hikes over the next year, superseding their prediction from December 2021, where they anticipated a slightly more trivial three-to-four per cent increase instead. 
The expectation is that costs will, to some extent, start equalising in 2023, as the cash rate hikes from the RBA slow down, and the unpredictability surrounding the supply of materials and resources subsides. For the time being though, speculative development remains slower than some would like; only 33% of Australia's current share of new floorspace is made up of speculative developments, versus 76% in the USA. 
---
With the RBA lifting the cash rate by a further 50 basis points earlier this month, the industry should expect that the rest of 2022 and the beginning of 2023 will prove particularly tight. For property owners, the increase in rent should prove positive, whilst tenants will likely try to maintain a firm grasp on whatever space they currently occupy - it's about as in-demand as it has ever been.