Burgess Rawson's highly prestigious auction event returned for its November edition. The highly successful portfolio event transacted $190 million worth of property during the previous auction held in September.
Burgess Rawson's November Portfolio saw 61 properties offered to the market from locations all across Australia. The event returned to auction rooms as Sydney, Brisbane and Melbourne all hosted investors and buyers at the Sydney Opera House, Hilton Brisbane and Crown Casino respectively.
Over the three days, Burgess Rawson was proud to achieve a 77% success rate as 47 properties successfully sold under the hammer for a combined transaction total of $216,964,300. 
Interestingly, each day highlighted a new trend. Liquor assets headlined Sydney's event, whilst fast-food starred in Brisbane's portfolio and childcare properties continued its strong momentum during Melbourne's portfolio. 
Sydney, November 9, 2021
Sydney kicked off Burgess Rawson portfolio 148 with 19 quality investments placed up for sale. Three properties sold prior to auction, which included two early learning centres. Overall, the day recorded a pleasing 68% success rate with 12/19 properties successfully finding new owners. A total of $59,818,000 in combined value was transacted during the event and 206 bids were accepted throughout the day. 
Liquor assets were fiercely contested throughout the day with these assets selling well above reserve, and both to local NSW investors. 
The Liquorland at Woonona, NSW generated great competition, attracting 20 bidders. The property was knocked down to a Sydney-based investor, who only registered 10 minutes prior to auction, selling for $2,510,000 ( 3.75% yield).  
The 'First Choice Liquor' located in Maroubra NSW also achieved great interest with 15 registered bidders across Melbourne and Sydney keen to acquire the liquor asset. The established investment recorded a mega sale, selling for $10,170,000 (3.43% yield). The huge result ended up achieving a best ever yield for a First Choice liquor property and the second best yield for a large format liquor asset across Australia.
The great momentum behind liquor assets continued with Dan Murphy's in Dickson ACT selling for $15,160,000 (yield 4.25%) 
Burgess Rawson Head of Agency NSW, Darren Beehag said "Liquor has been a star performing asset class with further record breaking yields achieved this week headed by First Choice Liquor in Maroubra which sold for $10.17m / 3.4%, Liquorland Wonoona for $2.51m / 3.75% and Dan Murphy's in Dickson ACT for $15.16m / 4.25%."
"Investors have also shown a massive appetite for fast food assets with record prices for that asset class too." Mr Beehag added.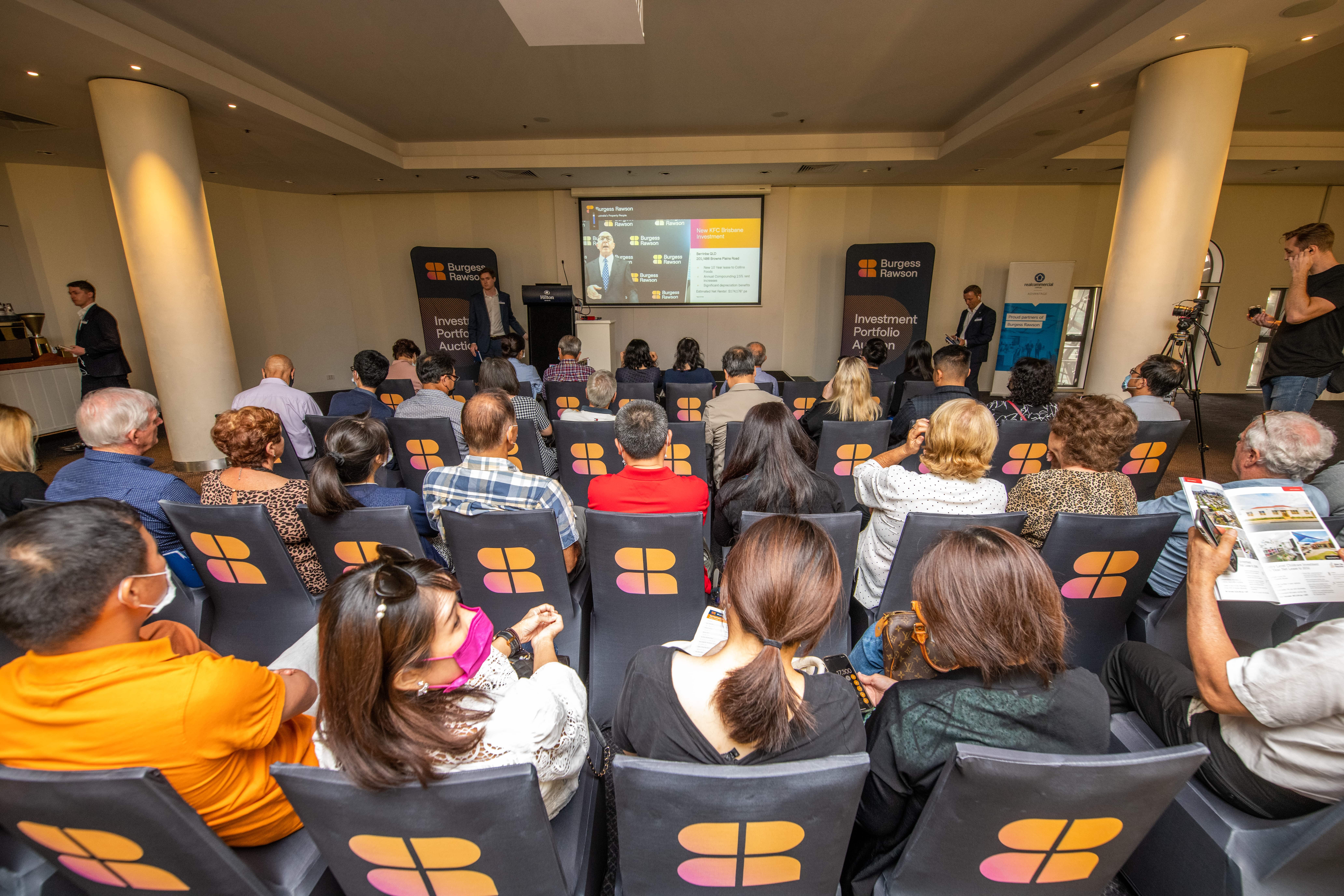 Brisbane Portfolio Auction | held at the Hilton Hotel, Brisbane (Image Via Burgess Rawson)
Brisbane, November 10, 2021
All attention turned to Brisbane as Burgess Rawson's 148th portfolio auction event continued in the sunshine state. A further 19 prime commercial properties were up for grabs.
A full-house of investors attended the much anticipated event, along with phone and online bidders from across the nation. 
The day recorded a 62.2% success rate as $57,067,000 worth of property was sold throughout the day. Fast food assets were the major highlight of the day as three fast food investments sold under the hammer for a combined total of $12,040,000. 
KFC in Berrinba, QLD was hotly contested, achieving a terrific $4,930,000 sale (3.53% yield). Whilst the Hungry Jack's in Dalyellup, WA scored a great result, selling under the hammer for $5,715,000 (3.81% yield). To cap off a trio of impressive fast-food results, the Domino's in Surfers Paradise, QLD found a new owner, transacting for $1,395,000 (4.44% yield). 
Recapping the results from the day, Burgess Rawson Joint Head of Agency QLD, Andrew Havig said "Fast food, childcare, medical and industrial investments were all stand out performers on the day. We sold a KFC in Berrinba for 3.53% ($4,930,000) to start the day and also achieved a new Brisbane childcare yield of 4.69% ($4,600,000) for a $2.5m+ childcare investment."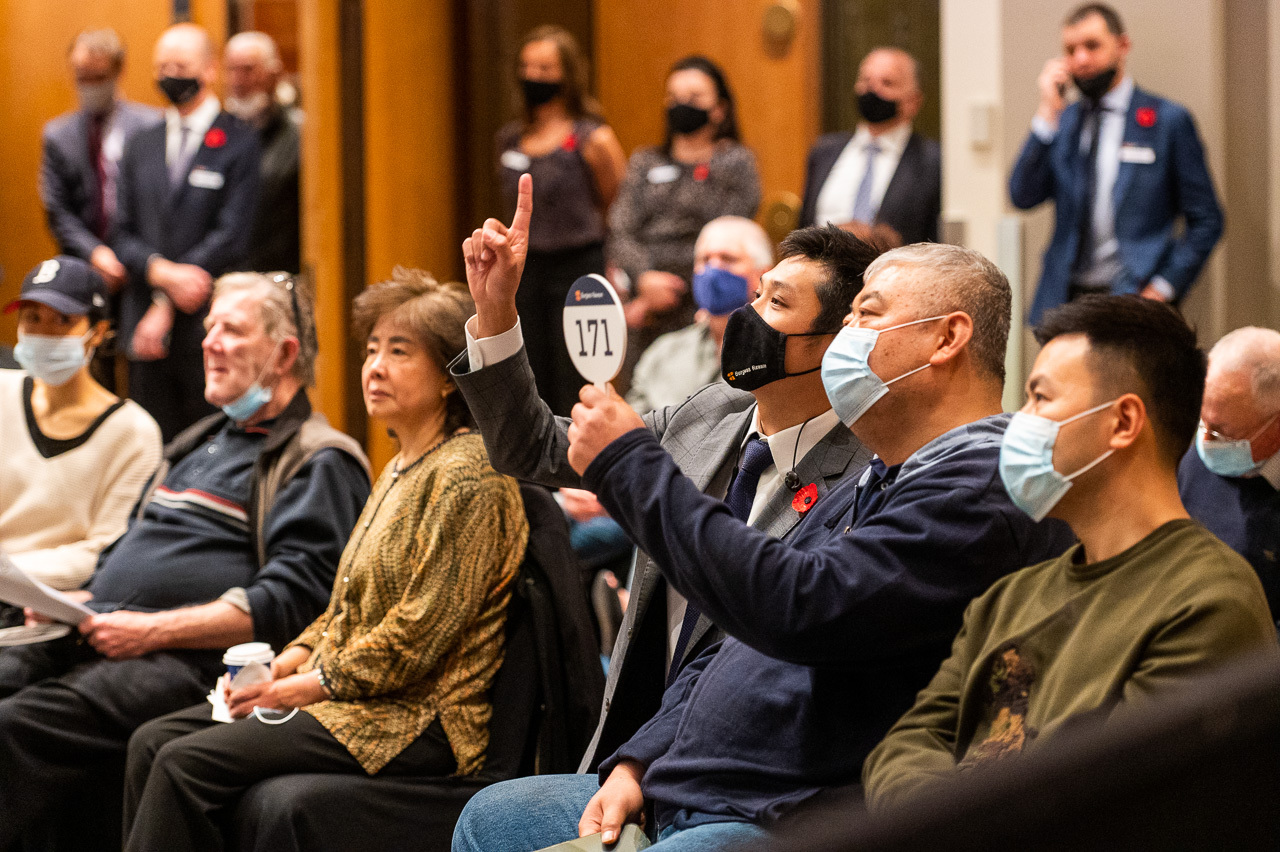 Melbourne Portfolio Auction | held at the Crown Casino, Melbourne (Image Via Burgess Rawson)
Melbourne, November 11, 2021
After two jam-packed days full of commercial auctions, it was Melbourne's turn to host Burgess Rawson's portfolio. A fresh line-up of 23 commercial assets were offered to investors during the concluding day. 
With restrictions easing, Burgess Rawson welcomed back buyers to the auction room at Crown Casino for the first time since June. 
It was safe to stay that Melbourne performed outstandingly! A 91.3% success rate was recorded as $100,079,300 worth of property sold. 
Childcare assets performed brilliantly with all five early learning centres selling for a combined total of $44,732,000. The most impressive childcare centre performance was in Hallet Cove, SA. This asset drew 24 bidders and recorded 80 bids before selling under the hammer for $1,692,000 and achieving a record yield for early learning centres in SA (3.99% yield).  
Commenting on the great childcare results, Burgess Rawson National Head of Agency, Adam Thomas said, "Childcare assets continue to show great strength in the market and these results show how sought after early learning investments are. Having sold five for a combined total of over $44 million proves the current popularity of childcare assets. These are brilliant results."
See all the results from BR148 below
Burgess Rawson's 149th Portfolio Auction will take from December 14-16, 2021